If you like to play games, A Lenovo Ideapad l340-15 laptop with powerful graphic specifications is necessary. Or, if you are following a study where you have to make complex graphic drawings or designs, it is essential to choose a suitable student laptop that you can use in the coming years.
For this review, I took a nearer look at the Lenovo IdeaPad L340-15IRH gaming 81LK01FVMH. I'll tell you what kind of laptop it is, who this laptop is suitable for, the specifications, where to buy this laptop and finally my conclusion.
Lenovo IdeaPad L340-15 IRH Review
Are you looking for a laptop that has sufficient graphical processing power? Then the Lenovo IdeaPad L340-15IRH Gaming finished in Granite Black, is a good choice. The Lenovo has an NVIDIA GTX 1650 graphics card with the latest generation Intel Core i7 processor and working memory of 16 GB. It offers enough power to get started with heavy software.
Stream your favourite music on YouTube while editing photos and videos in Adobe programs like Premiere Pro and Lightroom. In addition, the laptop is suitable for playing games such as Fortnite and League of Legends.
The Ideapad series has been aimed at non-gaming users and more aimed at work or students. But this time, this series even gets some frills for gaming. Lenovo IdeaPad L340-15IRH users in this segment want to have some fun playing games in their spare time. Before I go any further, it's better to look at the specs first.
Specifications of the LENOVO IDEAPAD L340-15 IRH GAMING 81LK01FVMH
CPU: Intel® Core™ i7-9750H 9th Gen 6 Core 12 Thread, Intel® Core™ i5-9300H 9th Gen 4 Core 8 Thread;
Operating System: Windows 10 Home;
Video card: NVIDIA® GeForce® GTX 1650, Max-P or an NVIDIA® GeForce® GTX 1050, Max-P;
RAM: up to 16 GB (one SO-DIMM slot);
Battery: offers up to 9 hours of battery life, with 45Wh fast charging technology;
Storage Devices: M.2 PCIe SSD up to 512 GB, SATA 2.5″ hard drive up to 1 TB, Intel® Optane™ Solid State Drive up to 16 GB;
Display: 15.6" FHD (1920 x 1080) IPS antiglare, 250 nits brightness, 45% NTSC color space coverage;
Audio System: 2 x 1.5W speakers with Dolby Audio support;
Webcam: HD 720p, with a bi-directional microphone and physical shutter;
Dimensions: (363 x 254.6 x 23.9)mm;
Weight: 2.1 kg.
Lenovo IdeaPad L340-15 IRH Screen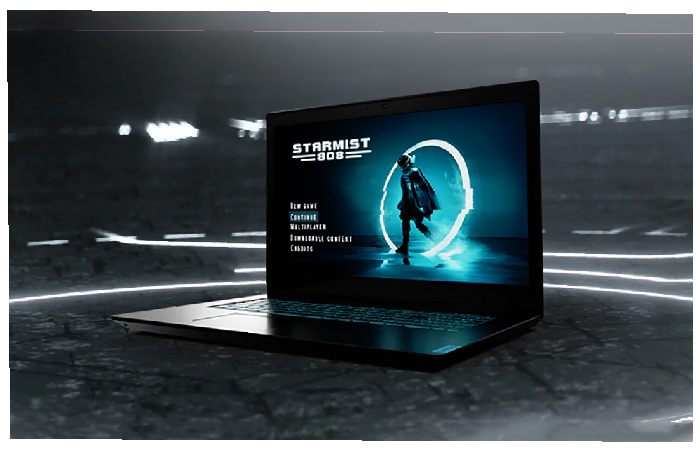 The screen has a size of 15.6 inches and has a full HD resolution. The refresh rate is standard, still 60 Hz.
The panel is made by Chi Mei, who has the N156HCA-EAB series. If you look at the specs, it already has 250 nits of brightness, 66% sRGB colour gamut, 47% NTSC and 50% AdobeRGB.
The screen isn't good enough for those who need colour accuracy and detail, especially those who work professionally in the photo or video editing.
Don't get me wrong; the screen is good enough to play games and stream movies and series. But this laptop is not suitable for high-level photo or video editing.
But still, it's already IPS, which is more excellent than a TN panel. The panel also uses anti-glare, so it's pretty good and comfortable when viewed from different angles without worrying about getting hit by light reflections.
It is also nice that the screen hinge bends almost 180 degrees. That certainly contributes to the experience if you look at it from different angles. design
Because it is based on the IdeaPad, this laptop has a minimalist design and does not have too much gaming appearance even though it bears the name Gaming.
But Lenovo keeps the classic and straightforward design of the Ideapad series. The lid body is smooth and is already covered with polycarbonate material. It looks rugged and doesn't leave fingerprints when you touch it.
The housing has a simple but sleek design appearance. Everything is in black combined with an elegant blue backlit keyboard. There is a small Lenovo logo in the right corner.
Lenovo IdeaPad L340-15 IRH Keyboard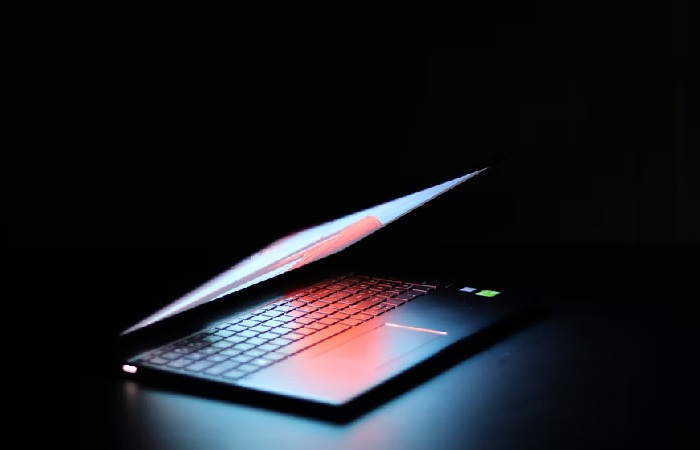 As mentioned before, this laptop has a full-size keyboard with a blue backlit background. The power button is in the keyboard area, and there are no hotkeys or macros.
The backlight offers two brightness levels, and this blue colour makes a fantastic impression. I like the backlight because, in addition to the light coming from the insides of the keys, the letters and numbers on each key also light up, so it's more apparent when it's dark.
The keyboard consists of low-profile keys and feels soft when you press them.
In addition, the keyboard has a separate number pad. And slightly less comfortable, namely that the navigation buttons up and down have a small size.
Lenovo IdeaPad L340-15 IRH Touch Pad
The touchpad is placed slightly to the left to be the same as the main keyboard. The design is simple, and there are no physical left and right click buttons.
In terms of comfort, you can say that it is standard. The feel of the keys is deep and a little hard. But it's not bad as the touchpad is just a backup when there's no mouse left. It supports multiple gestures for up to four fingers.
Lenovo IdeaPad L340-15IRH Webcam
The webcam has a resolution of 720p. The quality is not demonstrably poor because the average webcam quality is comparable. But what's different, this webcam is equipped with Lenovo IdeaPad L340-15IRH Vantage software settings.
Here you can find a privacy mode setting that disables the webcam. Another way is to close the slider next to the webcam. In addition, you also have a pro mode option, so you can also set the brightness.
Lenovo IdeaPad L340-15 IRH Battery
This laptop has a battery with a 45 W / h 3-cell. According to the manufacturer, the laptop can last 9 hours on a full battery. And now we know that this is always a bit broad.
From my test with the low-brightness power-saving mode scenario with the Wi-Fi turned off, the battery lasted up to 8 hours and 21 minutes. With regular use, the battery lasts up to 5 hours. This is a setback.
This benchmark represents browsing, typing, photo editing, video chatting, and playing light games. It uses PCMark benchmarks with conventional home battery life. This time is arguably long enough for an IdeaPad with adequate specs in its class.
Lenovo IdeaPad L340-15 IRH Dimensions
This laptop has slightly wide dimensions. This may be due to the full-width keyboard dominated by the Numpad area. The 15-inch screen has a relatively wide border on the left and right.
The size is 36.3 cm long and 25.46 cm wide. And what I like is the thickness which is only 2.4 cm. For gaming laptops, that size is relatively thin. And the weight of the Lenovo IdeaPad L340-15 IRH is only about 2.1 kg light.
Lenovo IdeaPad L340-15 IRH Connections
Lenovo IdeaPad L340-15 IRH  Port I/O only focuses on providing ports on the laptop's left side. There is no connector on the right side except for the Kensington lock.
The connections are excellent when you use a separate mouse and are right-handed. A left-handed user can still suffer from the cables when you have to work (or play) on a small surface.
On the left is a DC-in with a USB-style connector, gigabit ethernet, HDMI, two USB 3.1 type A Gen 1, an audio jack, and USB 3.1 type-C. In addition to this type-C, there is also a reset hole and the power indicator LED.
Lenovo IdeaPad L340-15 IRH Software
This Lenovo IdeaPad L340-15 IRH comes standard with Windows 10 Home. No Office 365 is included.
In addition, this Lenovo IdeaPad L340-15 IRH laptop includes software called Lenovo Vantage. But because it's not made explicitly like Legion, it's not a tool to monitor your laptop.
This laptop only provides information about the hardware and brief tips. You can adjust several things, but those are just a few. Settings are only possible for battery mode, webcam, screen and audio.
Lenovo IdeaPad L340-15 IRH Storage
Regarding storage, you can choose from 2 variants. Namely;
A 512 GB SSD hard drive offers, in principle, sufficient space to store your work. Combined with a GTX 1050 graphics card.
And a 256 GB SSD hard drive plus another HDD hard drive with a capacity of 1 TB. They are combined with a GTX 1650 graphics card.
Upgrade Options
You can upgrade three components of the Lenovo IdeaPad L340-15 IRH. The amount of RAM, and the SSD and HDD.
Unfortunately, they have only created one slot for the RAM. This means that you cannot place an extra chip. Maybe upgrade the current chip.
As for the storage, I think you are fine, and an upgrade is not necessary. The laptop equipped with a 512 GB SSD drive or a 256 GB SSD drive and, in addition, a 2.5-inch 1 TB HDD drive.
Lenovo IdeaPad L340-15IRH Audio
The Lenovo IdeaPad L340-15 IRH laptop is equipped with stereo sound. The speakers are at the bottom left and right. The position is good because it is slightly tilted, not directly hindered by the table foot.
At maximum volume, the sound is still quite comfortable and unbreakable. You hear the bass sound but not excessively. At least the sound isn't shrill.
Incidentally, the sound in headphones clicks quite well.
Stress test, temperature and cooling
To reduce heat, Lenovo IdeaPad L340-15IRH relies on two fans and two heat pipes inside.
The warm air outlet in the form of an air hole is at the back, unfortunately, blocked by the screen hinge. At the bottom, there is also an air hole to suck in air.
This method is helpful for light activities. But it wasn't optimal if you did a stress test.
As of the stress test on AIDA64, the CPU temperature initially reached 90 degrees. But then the temperature dropped to 70 degrees.
This laptop continues to work by lowering the CPU clock when the temperature rises above 90 degrees.
From the AIDA64 stress test observation, I must remind you that a pretty brutal 15-minute test shows a stable clock at 1.5GHz, below the base clock of 2.1GHz.
The monitoring also shows that the system is experiencing a limiting power limit, which can cause the CPU to run less optimally.
As for the temperature on the keyboard surface, the hottest part is in the area near the hinge.
What struck me, however, was the sound of the cooling. The cooling activates relatively quickly, and when the laptop is put to work, you hear a fan. This doesn't have to be a ruin, but it's good to know.
Who is the Lenovo IdeaPad L340-15IRH for
I said it briefly at the start of this review. This laptop is suitable for multiple types of users.
It is a good gaming laptop if you like to play games like Fortnite. This laptop is not suitable for heavier games such as Hitman 3 and Call of Duty.
Furthermore, it is a perfect laptop if you study graphic design or something similar. The laptop has sufficient computing power to handle heavier programs.
In addition, it is also a suitable laptop for office work. The Lenovo IdeaPad L340-15IRH is excellent and fast and has enough storage space to last for years to come.
Where can you Buy the Lenovo IdeaPad L340-15IRH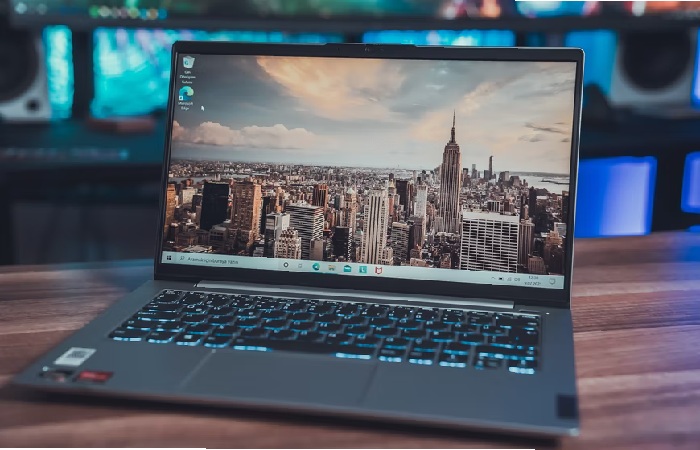 I researched where you can buy the Lenovo IdeaPad l340-15 IRH, and I concluded that the variant we discussed here could stay purchased.
https://www.amazon.com/Lenovo-Ideapad-i5-9300H-Processor-81LK00HDUS/dp/B07VC55LF5
https://www.lenovo.com/us/en/p/laptops/ideapad/ideapad-gaming-laptops/ideapad-l340-15irh-gaming/88ipl301161
https://www.bestbuy.com/site/lenovo-ideapad-l340-15-gaming-laptop-intel-core-i5-8gb-memory-nvidia-geforce-gtx-1650-256gb-solid-state-drive-black/6419028.p?skuId=6419028
https://www.walmart.com/ip/Lenovo-IdeaPad-L340-15-Gaming-Laptop-Intel-Core-i5-8GB-Memory-NVIDIA-GeForce-GTX-1650-256GB-Solid-State-Drive-Black-81LK01MSUS/813540136
PROS
– Powerful processor
– Enough storage space and working memory
– Sleek design
– Beautifully lit keyboard
– Nice to use
– Nice competitive price
CONS
– Webcam could be better
– The battery life is less than the factory specification
– Graphics card is not powerful enough for heavy games
Lenovo IdeaPad L340-15 IRH Gaming
Lenovo IdeaPad L340-15 Gaming is the best portable gaming laptop. All Lenovo because this laptop has  9th Gen intel and i7 core process and we all know i7 core process will find only in budget laptops.
Full-size keyboard with lights which make your experience more to play a game.
Lenovo IdeaPad L340-15 Gaming has all the power we need to outshoot, outrun, and outsmart.
Bt I7 core processing your files or gaming will launch too fast.
Lenovo IdeaPad L340-15 Price
At last, coming to the prices, you can find at every store some amount of money discount such as
Amazon prices  – $679
Colamco price – $634
Walmart price – $709
Boutikmundo.com –  $584
Mercari – $530
CONCLUSION REVIEW
Lenovo offers a cheaper solution for those who still find the Legion series too expensive. Despite using the name gaming, the Ideapad series cannot remain compared to a gaming laptop like the Legion series. The addition of the gaming name is more to confirm that this laptop can play games, not as a professional gaming laptop.
The performance for playing triple-A games can still stay played comfortably on the graphics settings in the Medium down option. Meanwhile, lighter games like Dota2, CS: GO, or PUBG are comfortable in high settings. And that's not a wrong gadget because this laptop tailored to multiple purposes, although Lenovo IdeaPad L340-15IRH would have you believe that it is a full-fledged gaming laptop.
I believe that you can use this laptop for studies as a graphic designer and the like. In addition, the laptop certainly meets the requirements of a work laptop. If you work more with Outlook, Word, and similar programs, this laptop may be too much of a good thing.
I also like the Lenovo IdeaPad L340-15IRH Gaming. It is a minimalist design and has no weird bells and whistles. It gives a modern and elegant impression. The keyboard stands out nicely because of the blue light.
The screen hinge is flexible as it can stay sent up to 180 degrees, and the port placement on one side is also a plus for you as it won't bother you when using the mouse. Unless you left-handed, it can still cause a problem.
Overall I am satisfied with this laptop. The specs and design look good. The i7 processor is powerful and invites you to perform heavy tasks. With the SSD hard drive and the working memory of 16 GB, this should certainly work.
Related Searches :
[lenovo ideapad l340 15 specs]
[lenovo ideapad l340 i5]
[lenovo ideapad l340 i7]
[lenovo ideapad l340-15api]
[lenovo ideapad l340 ram upgrade]
[lenovo ideapad l340 gaming]
[lenovo ideapad l340 price]
[lenovo ideapad l340 review]
People also Search
[lenovo ideapad l340-15]
[o ideapad l340-15]
[novo ideapad l340-15]
[enovo ideapad l340-15]
[ideapad l340-15]
[vo ideapad l340-15]
[lenovo ideapad l340]
[ideapad l340 15]
[o ideapad l340 15]
[ideapad l340]
[lenovo ideapad l340 gaming]
[lenovo ideapad l340 review]
[ovo ideapad l340-15]
[l340]
[lenovo l340 gaming]
[lenovo l340 15 gaming]
[lenovo ideapad l340 laptop]
[lenovo ideapad l340 gaming laptop]
[ideapad l340 review]
[lenovo – ideapad l340 15 gaming laptop]
[lenovo ideapad l340 gaming laptop review]
[lenovo – l340]
[lenovo ideapad l340 (15)]
[l340 lenovo]
[lenovo l340 15]
[lenovo l340 review]
[lenovo ideapad l340 15]
[lenovo l340 gaming laptop]
[lenovo l340 laptop]
[lenovo ideapad l340 review]
[lenovo – ideapad l340 15 gaming laptop – intel core i5]
[lenova l340]
[81lk00hdus]
[lenovo – ideapad l340 15 gaming laptop review]
[81lk00hhus]
[lenovo® ideapad l340 laptop]
[lenovo l340 specs]
[ideapad l340 gaming]
[lenovo ideapad l340 15.6″ gaming laptop]
[lenovo ideapad l340 i5]
[lenovo l340 gaming laptop]
[lenovo ideapad l340 specs]
[lenovo l340]
[81lk00hdus]
[lenovo l340 i5]
[lenovo – l340-15api 15.6 laptop review]
[ideapad l340 (17", intel) laptop]
[ideapad l340 specs]
[lenovo™ ideapad™ l340 laptop]
[lenovo ideapad 300 15 review]
[2019 lenovo ideapad 15.6]
[lenovo – l340-15api 15.6 laptop review]
[ideapad l340 (17", intel) laptop]
[lenovo™ ideapad™ l340 laptop]
[lenovo idea 340]
[lenovo ideapad 300 15 review]
[lenovo ideapad 340]
[2019 lenovo ideapad 15.6]
[lenovo ideapad l340 15irh]
[lenovo 300s review]
[lenovo l340 15irh]
[lenovo ideapad l340 15irh]
[lenovo 300s review]
[lenovo ideapad 300 reviews]
[81lk00hdus]
[vo ideapad l340-15]
[lenovo ideapad 300 reviews]
[ideapad l340-15]
[81lk00hhus]