Send a snap with the cartoon face lens – In today's smartphone world, A cartoon effect has been blowing on social media, changing people and pets into Disney characters and Pixar-esque. Nowadays, people post videos of acting like princesses transforming their pets into Disney-style animals. Also, some people are reinventing famous movie situations in an animated style. You can also send a snap of yours to your family and friends.
One of the most loved social media apps, Snapchat brings millions of users daily, thanks to its cool filters. From dog-eared filters and AR stickers to anime filters, Snapchat has the ideal Lens to suit your taste. The platform regularly brings in new filters to give others rest, and another hit has arrived in its catalog. Users are obsessed with this new Snapchat filter.
How Can You Send a Snap Using the Cartoon Face Lens from Snapchat?
Through Snapchat, users can send a snap with the cartoon face lens using the Cartoon lens. A good internet connection is essential for installing the Snapchat app first. Speculating how to get a cool cartoon selfie, we can send to our friends? Here's a step-by-step guide for getting a Cartoon face lens and sending snaps using it:
Step 1: On your smartphone, open the Snapchat app (ensure it's the latest version)
Step 2: Go to the camera screen, then click on the smiling face icon positioned on the right side of your camera button
Step 3: Next, you need to head to the cartoon lens. Hence, tap "Explore" at the bottom right-hand corner of your screen.
Step 4: You will find a plethora of options and lenses. Tap the search bar to type "cartoon face" and manually search for the filter. You will see the Camera Face Lens come up as the first result. Ensure you have selected the one with "Snapchat" as the Creator.
Step 5: Select the filter for clicking new videos or photos. Or, you can click the Camera Roll button for the Cartoon Face Lens on other images from your device's Gallery by clicking "Camera Roll."
Step 6: Click the blue arrow icon to send your friends a snap using the cartoon face lens. You can also post it to your Story!
How to use the Cartoon 3D Style Lens that's hugely popular among users nowadays?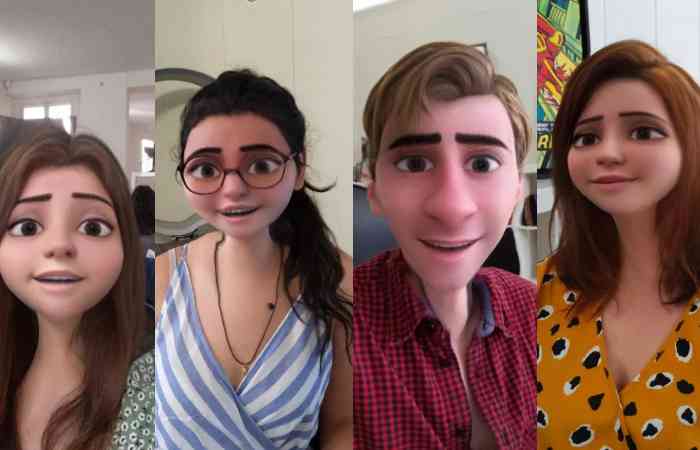 You should follow these steps to use the cartoon 3D Style Lens.
Step 1: Launch the latest version of Snapchat
Step 2: Go to the Camera Screen option
Step 3: Click on the smiling face icon to the right of your camera button
Step 4: Go to the Explore section
Step-5: Type the "Cartoon 3D Style" on the search bar
Step 6: Click on the Cartoon 3D Style lens, and you can use it for images or movies to share or download.
What are the most Popular Snapchat Cartoon Face Lens?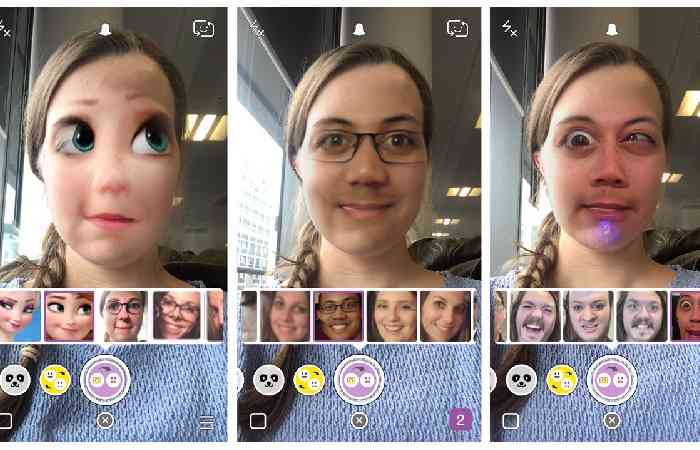 Snapchatter can use Snapchat filters that are quick and fun editing presets. After taking the snap, you can swipe left or right to view and add color modifications, Snapchat geo-filters, current time, stickers, weather, and all you want.
Below are some of the popular Cartoon filters that are trending everywhere.
1. Cartoon 3D Style
Today, there's no shortage of Disney-inspired filters out there. However, you can transform dynamically with Snapchat's Cartoon 3D Style Lens. This filter utilizes Augmented Reality to provide a look encouraged by Disneyland's blockbuster Movie Frozen. Snapchat's 3D Style filter permits men to look like Kristoff and women to look like Anna. Moreover, couples are enjoying this Lens a lot.
2. Cartoon Face Lens
You can use Snapchat's cartoon face lens on people and animals. This filter exchanges your eyebrows and eyes for ones that look like you belong in a Disney-animated classic. This Cartoon Face Lens is a popular filter because it portrays users in a different avatar. You only need a smartphone with a camera and your Snapchat app to send your friends a snap with the cartoon face lens.
3. Cartoon Effect
The Cartoon Effect Lens of Snapchat is an alternative cartoon filter that millions love.  It is a weirdly realistic rendering of what you would look like in a cartoon. Also, by paying attention to the details, the Lens is attractive and spot-on in mimicking your expressions.
4. Anime Style
The animation style that originated from the East inspired Snapchat's Anime Style. The Anime Style Lens gives you a renovation in an anime animation style and follows your expressions in real time. The filter has an excellent soft shading style that's surprisingly artistic and almost like it's been hand-drawn. Also, it's fun to try making diverse expressions as they lean towards transforming your new anime self entirely.
Conclusion
Transforming your overall look to resemble your favorite character would never be so easy, all thanks to Snapchat filters. Send your friends a daily snap with the cartoon face lens, creating a chain called a streak. So, take cartoon selfies daily of yourself and progress to the longest streak with your friends for as long as possible. With more friends, more fun, and more enjoyment, you will no longer be bored!